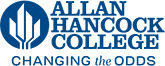 Formerly incarcerated student at Allan Hancock credits professor for changing his life
---
Friday, June 5, 2020
by Genelle Padilla
(For the full article visit the website linked below)
Published by KEYT
"I noticed someone who looked a little - quote - rough, a little out of place, and everything about me professionally, personally wanted me to connect with him," said Lynn Becerra-Valencia, Assistant Professor of Personal Development.

Becerra-Valencia walked Raygoza to various campus resources on his first day - a simple gesture that made a world of a difference.

"If she wouldn't have done that, I would have quit," said Raygoza.

Raygoza began meeting with other parolees on campus for support and empathy, and eventually created a club on campus called Beyond Incarceration Greater Education or B.I.G.E.